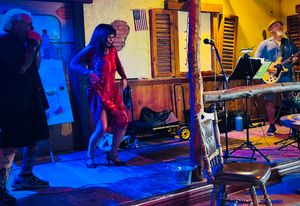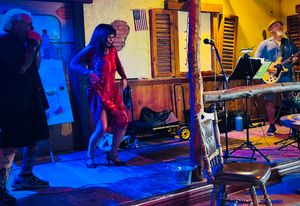 Band BIO
"We play Classic Radio Rock and Rockin' Blues.  Our goal is for people to feel happy and festive.  We are performing artists, both in music and presentation, creating a fun dance party atmosphere."
- Mesquite Cafe Blues Band (Mission Statement)
Mesquite Cafe Blues Band's brand of electric Blues coupled with their infectious energy quickly made them one of the area's favorite bands.  News sources have written over 30 articles about them.  
They regularly entertain at the Clark County Fair and Rodeo, Hurricane Peach Days Festival, Mesquite Community Theatre, Mesquite Days Festival, Peggy Sue's 50's Diner, Oasis and Conestoga Golf Clubs, Mad Mike's Bar and Grill, Envy Night Club and Lounge, Worden Restaurant, 1880 Grill, Sun City Mesquite, Mesquite Recreation Center, and many more venues.
MCBB also performs for Non-Profit Charitable Organizations as Virgin Valley Artists Association, Rotary Clubs of Mesquite, Women's History and Culture Center, Clark County Library,  Mesquite Toes Dance Troupe, Mesa View Estates, Love Family, and the City of Mesquite.  
They have recorded and produced four CDs available on most digital streaming sites, and have an Official Artist YouTube channel housing many performance and music videos.  
- Fifthook Media, LLC (Managment)